Today Geekscape released their lists of the
Top 10 Movies of 2010
, so much like the
other day
with my top 10 Albums from 10 Years ago and my list from
Last Year
of top 10 movies from 1999. Tonight I'm Presenting you with...
TOP 10 MOVIES OF 2000:
10. Snatch
I remember the first time I watched Snatch was in college (apparently roughly the same time A LOT of people watched Snatch for the first time). I enjoyed it's bizarre blend of humor and violence. However the movie wasn't and never will be as good as Lock, Stock and Two Smoking Barrels
9. Emperor's New Groove
Most people don't like this movie very much; but this is one of my favorite Disney cartoons of all time (along with Jungle Book and A Goofy Movie). It's got a quick sense of humor including a constant breaking of the 4th wall. All the voice acting in this is top quality and the writing is much more stylish than most Disney cartoons.
8. Almost Famous
Cameron Crowe's semi-autobiographical film about a high school student who lies his way onto a tour bus. Great music, great acting and real heart-felt moments. Cameron Crowe has yet to make a bad movie as far as I'm concerned (yes I even liked Elizabethtown and personally find it greatly under-appreciated)
7. Best in Show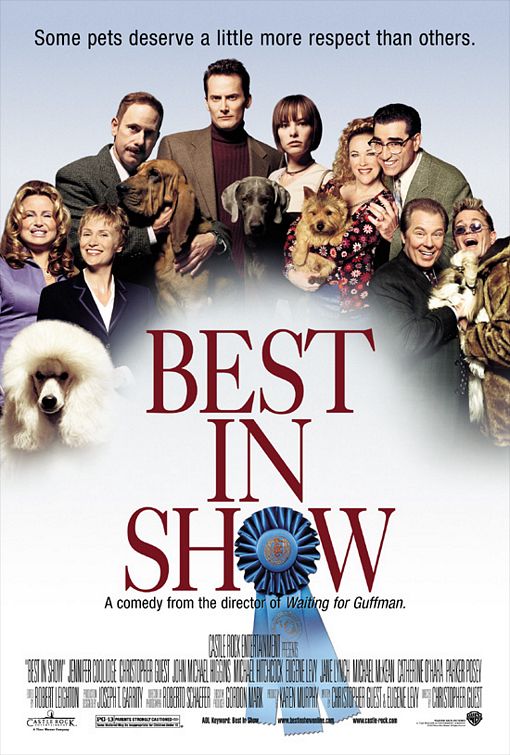 Christopher Guest is the king of the mockumentary and this is his Masterpiece; it's quite possibly the best Mockumentary since This is Spinal Tap. Each character is surreal without being completely unbelievable and outrageous without being unlikable. As in most of Guest's films Eugue Levy and Catherine O'Hara steal the show.
6. Ginger Snaps
I love Werewolf movies, I love them so much that I own SIX of the Howling Movies which is roughly five more than necessary (although I'll defend 3 or 4 if I have to). Ginger Snaps is one of the best Werewolf movies ever made (in good company with the Original Howling and American Werewolf in London). The subtle metaphor of Lycanthropy and menstruation cycles is a creative and interesting twist on the century-old legend.
5. Memento
One of the new decade's best mind-fuck movies. The out-of-sequence storyline keeps the viewer glued to the movie. Christopher Nolan has made nothing but great movies throughout his career but Memento will always be my favorite. My favorite memory of the movie was when I was in high school I leant it to a friend Sarah. She watched it while home with the flu and said "I liked it, but I kept falling asleep. I had to watch it three times before I totally understood what happened". Perfect summary.
4. High Fidelity
High Fidelity is my second favorite book of all time. I've heard a lot of people shit on this adaptation but I think it's wonderful. It works so well and you barely notice or care about the change of location and all-round Americanizing. The film still heavily uses the books dialogue which is the key-element to it's enjoyability. This was also the first movie to make me see Jack Black as more than just a Chris Farley wanna-be.
3. Cecil B. Demented
John Water's best post-Divine film without competition. It's dark and deranged without going as far as Water's past work. Everyone plays their part perfectly (that is to say completely over the top). It's possibly the ultimate love-letter to independent film.
2. Shadow of the Vampire
History, Horror and Urban Legends blend together perfectly in this delightful film. Basing a movies premise on a known urban legend was creative idea and it works so well it's frightening. Not only do we get a behind the scenes look at the silent film era, but we get to entertain the idea of "What if Max Schreck wasn't just pretending to be a Vampire". William Defeo and John Malkovich act their asses off in this fun and underappreciated horror film.
1. American Psycho
Pseudo-Horror mixed with psychology character study and satirical comedy is the best way to describe this genre-blending film. It's dark, it's funny, it's bizarre and it's perfectly acted. No I don't have a man-crush on William Defeo… he was just kicking some serious ass in 2000. I've never been able to watch any Christian Bale performance and not picture him talking, laughing and crying at the exact same time while making a confession of his murder spree over the phone.